Bob Snodgrass: 250 cars and counting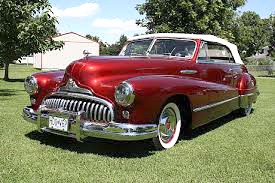 Oct. 9, 2019  — It is doubtful that any other LHS Class of 1956 member owned FIVE cars by the time he or she graduated from high school. Bob Snodgrass DID and he accomplished that feat as a hard-working teenage entrepreneur.
He traded the beautiful new bicycle with all the bells and whistles that his parents bought him for his thirteenth birthday for a new lawn mower and went to work.
He came up with a catchy slogan: "Will mow lawns high or low, call 930!" and soon had a regular clientele. (Do you remember when phone numbers in Lawrence were only three digits? Or perhaps two?)
Bob's mother transported him and his lawn mower to the yards he mowed until he was 14 and could drive himself and his brother Lanny who joined him in the business.
During his high school years, Bob's lawn mowing profits allowed him to begin dealing in cars. He owned a 1932 Ford sedan, 1936 Ford Coupe with 25,000 miles on its odometer, 1939 Ford Coupe, 1949 Ford and a 1947 fire-engine-red Buick convertible. Bob's car looked like this one found on the Internet. Isn't it a beauty?
He has owned about 250 cars in his lifetime and says he has never had a dealer's license. He considers his acquisition of so many automobiles to be obsessive-compulsive behavior, but in all likelihood it is just a love of automobiles and the freedom of the open-road they represent.