Mary Harrison Bunce Baxter 1938-2023

Our sincere condolences to the family of Mary Harrison Bunce Baxter who died on September 18, 2023.
Please see her obituary HERE.
Mary Woodhead Finney 1938-2023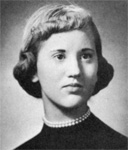 We are sad to announce the death of Mary Woodhead Finney on September 7, 2023 and send our condolences to her family.
HERE for her obituary.
Rosie the Riveter meets Elvis
Marsha Henry Goff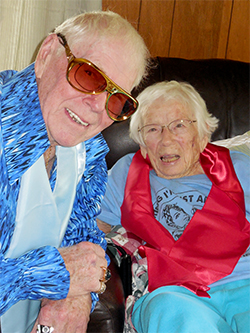 August 15, 2023 — Yesterday, Bob Lockwood,our friend and classmate, and I went to the home in rural Topeka of Katie Sherrow, 102, and Pat Martin, 91. Bob, who is a talented Elvis tribute artist, serenaded these two energetic and appreciative ladies for more than an hour, presented them with "Elvis" scarves and one of his CDs. He was casual Elvis yesterday, sans wig and sideburns, wearing a puffy shirt, flared pants and white boots, but they absolutely loved his living-room performance and occasionally sang along with him.
It was a long-delayed performance. Initially, Ray and I had planned a big 100th birthday party for Katie. We rented a venue that would accommodate 120 guests and Bob had agreed to perform in full Elvis regalia with his live band. Invitations were ready to be mailed and then Covid reared its ugly head and shut everything down. Bob has heard so much about the ladies and has been anxious to meet them so yesterday we made it happen ... finally.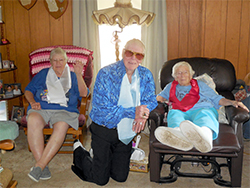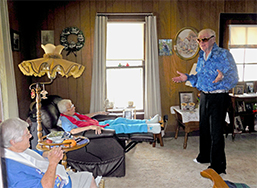 Ray and I were fortunate to meet Katie and Pat when I was commissioned to write a magazine article about Katie, who was a Rosie the Riveter during WWII. Katie and Pat are hard-workers taking care of 12+ acres (Katie mows with a John Deer riding mower and Pat with a Ford N tractor), kind and sharp as tacks. I hope they live forever!
Donald Lane Acher 1936-2022

June 6, 2023 — We are saddened to report that Donnie Acher died in 2022 and send our deepest condolences to his family.
HERE for his obituary.
John "Buddy" Bookwalter 1939-2023

We are saddened to report the recent death of Buddy Bookwalter and extend our deepest sympathy to Beverly and their children.
HERE for his obituary.
Recently Found Classmate Deaths
We are grateful to Mary Tatham Rector who informed us about three classmate deaths of which we were unaware. Our belated sympathies to each of their families.
If you are aware of deaths of classmates we have not reported, please do inform us. You may email Marsha at mhgink@gmail.com.

I could not find an obituary for Ronnie Kunkle but he died in 2010 or 2011 in North Las Vegas, Nevada.

Patrick Wynne died in Maryville, Missouri in 2013. HERE for his obituary.

Reda Glenice Harmon Snodgrass died in Eudora, Kansas in 2021. HERE for her obituary.
Ralph Leary: Crafting beautiful memories in wood
By Marsha Henry Goff

Feb 28, 2023 — Ralph Leary is a farm boy who began farming at 13 years of age. Why is that important to a wizard in woodworking? Because farm boys are accustomed to working and do not seem to know how to quit. He farmed with his late brother Norman for 61 years. From 1996 until 2006, in addition to farming, the brothers built houses on their land. During the winter from the time the crops were planted until harvesting, they worked on the houses, doing almost all the work themselves with a few exceptions like concrete work, plumbing and sheetrocking. "We always worked six days a week," Ralph notes, "and sometimes seven days a week."
HERE for full article from the Winter 2023 edition of Amazing Aging!
Delores Husted Kilburn December 30, 2022
Jan. 22, 2023 — Many of you will temember Delores Husted Kilburn who was a classmate of ours. We regret to announce her death. HERE for her obituary.
Nancy Joy Clifton Kampschroeder 1938-2023

Jan. 17, 2023 — We are sad to announce the death of classmate Nancy Joy Clifton Kampschroeder and express our sympathy to her family.
See her obituary HERE.
Our "66 for '56" Reunion Report
By Marsha Henry Goff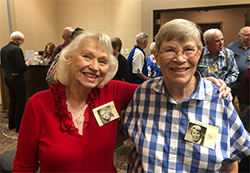 Marsha Henry Goff and Hilda Poort. Photo by Jon Poort
Dec. 8, 2022 — Covid might have delayed our 65th reunion for a year, but it couldn't keep us from having fun at our "66 for 56 Reunion"! The only thing we forgot was to designate someone to take photos. Our bad! Consequently, we are especially grateful to Fred Deay and Stu and Anita Smith for pictures from Friday night's get together at Johnny's Tavern and to Jon Poort for taking the photos Hilda asked him to take with her friends and to Shirley Freeman (Larry's wife) for the videos she filmed with her new and unfamiliar phone at the Double Tree by Hilton hotel. Lillian Lockwood (Bob's wife) also provided us with a couple of photos. If you took photos or videos at either event, please share them with us.
Some classmates came a long distance: Buddy and Beverly Bookwalter from California; Stu and Anita Smith from Georgia by way of Minnesota; Alan Coombs and his son from Utah; Jean Miller
Allan Coombs and his son James.
Photo by Fred Deay

Lanny Snodgrass, Bob Lockwood, and Brian Cooper. Photo by Lillian Lockwood
Pavela from Pennsylvania; Larry and Shirley Freeman from Oregon; and Raymond and Betty Redford Pippert from Indiana. Bob Snodgrass couldn't make the trip but he was ably represented by his brother, Dr. Lanny Snodgrass from Washington, and his sister Mary Beth Harmon. Most of the other attendees came from Kansas and Missouri.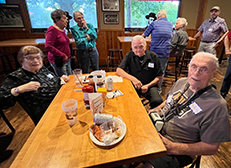 Joanne Carney Connell, Sue Squires Midyett, Juie Harner Hammond, Lee Connell, Don Carney. Roger Wagner standing (wearing ballcap). Photo by Anita Smith
Friday night at Johnny's rocked! No stairs to climb this time as classmates visited and consumed sliders and pizza and drinks of their choice. The biggest surprise of the evening was the appearance of Jerry Cunningham. Most of us haven't seen him since we graduated in 1956. Members of other classes also stopped by for a visit. All in all, it was
a great time for catching up with classmates.
Saturday's event started off with a buffet which seemed popular with everyone: salad, beef, fried chicken, mashed potatoes, green beans, corn
muffins and more plus cherry crisp for desert.
Let's just say that $20 was a great deal for two days' worth of food and fun! Fred Deay provided photo name tags and after Bob Lockwood welcomed classmates and made a few announcements, his music manager, Brian Cooper, played "The Class of '56 had its Dreams."
Then I gave a short talk "An Interactive Walk Down Memory Lane" with books as prizes. Turns out that I remembered a lot more about high school than some classmates, causing me to ask at one point, "Are you sure you went to Lawrence High School?" So let me know: Do you remember Mr. Wherry utilizing the FFA boys to sod the grass at the new high school? And do you remember that they took off their shirts and put them on just as quickly when Mr. Wherry got wind of the half-naked boys? (Perhaps I remember because Ray was one of them and I had never seen him without a shirt. How exciting was that!)
Do you remember when we decided we didn't like the cafeteria food and planned to all bring sack lunches on a certain day so the cafeteria would be stuck with all that icky food? It didn't happen because someone squealed and Mr. Wherry said that anyone who planned to eat in the cafeteria had to pay a day in advance.

The late Barbara Hodgson and I may be the only classmates who kept unsharpened and unused the pencils Mr. Wherry personally gave as a Christmas present to each student by walking through every classroom. My pencil has a Santa and a scripture from the Bible printed on it as well as Merry Christmas from Mr. and Mrs. Neal M. Wherry.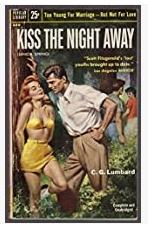 This is Senior Spring a year later. Same exact book with a different title and cover. Do you think Miss Curry would have purchased this book for the library with this cover? Neither do i!
Something I didn't mention because I just thought of it is the book titled Senior Spring that was in our school library. I know one girl other than I who remembers it because she checked it out and — although the term hadn't been coined and doesn't apply to books — it went viral and was handed from girl to girl until it was way overdue and the wait list was so long that when it finally came back to the library, Miss Curry read it and it was never again seen on the library shelves.
I just did a little research and found the book was published in 1954 under that title but published in paperback in 1955 under the title Kiss the Night Away with a salacious picture on the front and the words "Too young for Marriage — but not for love." I'm sure you get the idea of the type of book it was. I can't remember who passed the book on to me or to whom I gave it once I read it. I remember it as being racy but the only words I remember is that the girl decided to wear her sweater that was "yellow like chicken feathers." Inciden-tally, that used paperback is available on Amazon for $4.95.
Please let me know if you remember any of these things. I fear those at the reunion may think I was making them up. Still, I managed to give away more than a dozen books.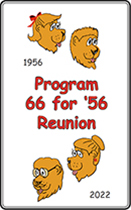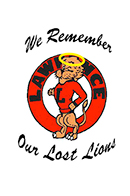 I am including the Saturday program and the Lost Lions folders in PDF form which you may print if you wish. Out of our class of 217, we have lost 97 classmates that we know of and likely there are more of which we are unaware. Typing Ray's name was hard; I honestly wish someone had been typing my name instead of me typing his.
HERE to download "1956 Program 66 for '56 Reunion". HERE to download "We Reember Our Lost Lions". Both are in PDF form.
Bob had planned to sing only one song titled "I'll walk with you in the Sunshine." It is a beautiful song and one for which he wrote both lyrics and music. It took some coaxing to persuade him to sing three Elvis songs. (Harry Miller: it's hard to believe but just for that one day he appeared to transition back into that shy monkey on the high bar.) Thanks to Lillian Lockwood (Bob's wife) we have three photos, and we are also grateful to Shirley Freeman (Larry's wife) for videos of three of Bob's songs.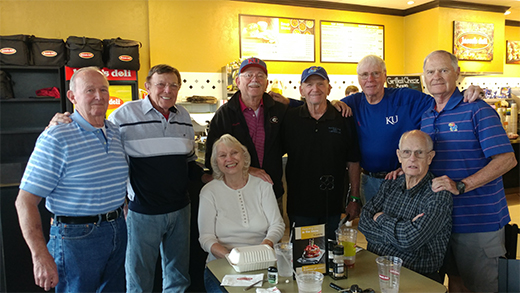 The "66 for 56" reunion is likely our last, however, if you live far away and happen to be in Lawrence, let us know and we will try to get a small group of classmates to join you at a restaurant for lunch. We did that with Stu and Anita Smith three years ago and it worked out great. There were only eight classmates and a couple of spouses in attendance but we had a lot of fun and even took a photo of the classmates to prove it. Of those eight, only five are left. See how important it is to get together with classmates when the opportunity arises?
We are considering resuming The Lion's Tale newsletter we once sent out as long as our funds hold out and provided classmates will contribute tales of what they are doing. We believe our class was exceptional . . . and still is!
—Marsha Henry Goff
"66 for '56 Reunion Photos
| | |
| --- | --- |
| | |
| Anita Smith, Larry Freeman, Shirley Freeman, Gale Cawley, Sue Smith Pearson. Photo by Fred Deay | Clockwise from left: Jessse Newman, Sharon Ward Lockwood Newell, Marsha Henry Goff, Park Lockwood. Photo by Fred Deay |
| | |
| --- | --- |
| | |
| Clockwise from left: Larry Freeman, Shirley Freeman, Gale Cawley, Raymond Pippert, Sue Smith Pearson. Photo by Anita Smith | By table: Shirley Freeman, Gale Cawley; Stu Smith, Beverly Bookwalter, Buddy Bookwalter, Daryl Beene; Joanne Carney Connell, Lee Connell, Don Carney. Photo by Fred Deay |
| | |
| --- | --- |
| | |
| Clockwise from left: Bob Lockwood, Kennith Whaley, Wanda Whaley, Beverly Gardner (partially obscured), Ralph Leary. Photo by Fred Deay | Clockwise from left: Raymond Pippert, Monte Person, Fred Deay, Betty Redford Pippert. Photo by Anita Smith |
| | |
| --- | --- |
| | |
| Stu Smith and Allan Combs. Photo by Anita Smith | James Coombs, Stu Smith, Allan Coombs (back to camera). Photo by Anita Smith |
From left: Roger Scott, Beverly Bookwalter, Mary Scott, Buddy Bookwalter, Daryl Beene.
Photo by Anita Smith

From left: Buddy Bookwalter, Joanne Carney Connell, Sue Squires Midyett, Julie Harner Hammond, Lee Connell, Don Carney. Photo by Anita Smith
| | |
| --- | --- |
| | |
| Lanny Snodgrass and Bob Lockwood. Photo by Lillian Lockwood | Betty Pippert and Bob Lockwood. Photo by Lillian Lockwood |
Video From Class of '56's 60th Reunion
You must be a member of the Class of '56's Facebook Group to view the video.
To Join the Class of '56's Facebook Group page:
From your Facebook page search for the "Lawrence High School Class of 1956" group page, open it and click on "Join". Your request goes to the group Administrator who will OK your request. Group members will be able to view messages posted to the page, post photos and add comments AND view video from the 60th Reunion's Saturday's event..
If you have difficulties in finding this page, please send an email to ruth@humphreyfam.com.