What's Happening: "On the Go"
Go to the "Archives" section for older "On the Go" articles.
Safari for 80 and over???
Oct. 9, 2019  — Betty and I (Yin Yeh) just returned from something that was always a desire of hers: To do a safari! At our age? Anyway, we did it, and with significant success, by our own standards.

Atlantic Ocean side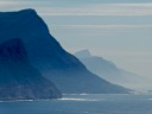 Indian Ocean side
Coupling with the safari at Hwange National Park of Zimbabwe, we visited the Cape of Good Hope and Victoria Falls. The southernmost point of Africa was quite spectacular, you can almost feel the roughness of the Atlantic Ocean waves and yet on the other side, the tranquility of the Indian Ocean. I tried to capture that difference in a couple of photos. Coupling with the safari at Hwange National Park of Zimbabwe, we visited the Cape of Good Hope and Victoria Falls. The southernmost point of Africa was quite spectacular, you can almost feel the roughness of the Atlantic Ocean waves and yet on the other side, the tranquility of the Indian Ocean. I tried to capture that difference in a couple of photos.


Victoria Falls is just BIG! I understand that it is ~350 ft high at its deepest point, and the extent of the fall is tremendous. Just walking along to see the entire width of the fall on the Zimbabwe side is about 1 mile. But we made that trek and back to the base.
Our travel agent set us up for essentially a "seniors' safari". We had a luxury tent, complete with king-sized bed and all the hotel amenities, and a front window/patio seat to view a waterhole about 50 ft. away.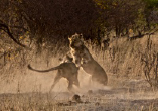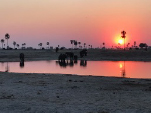 These animals parade through this all day, exhibiting their uniqueness and idiosyncrasies. Even the lions came to call on our camp. We had the true "game drives" as well, and these got us to see the depth of the animal interactions in the wild. A relaxing evening was spent viewing a desert oasis, complete with palm trees, elephants and sunset. By the way, those famous "African massages" on the drive trucks are just that. One day, my Fitbit registered 15,000 bumps!
By the way, South Africa has an immigration crisis, and Zimbabwe has a drought, both for water and money. So what else is new?
— Yin
Betty and Raymond Pippert travel to Cuba
Feb. 8, 2019 — Raymond and I, and our son Randall, took a cruise to Havana and Cienfuegos, Cuba, and Grand Cayman the middle of December. Unfortunately weather prohibited our going to Cienfuegos and Grand Cayman. We ended up in Ocho Rios, Jamica. We ended up rescuing a very small fishing boat that had drifted far away from their home. When our ship saw their flare, and approached them, they told us they had given up hope. It took about 3 hours, while we were standing by, before we were allowed to pick them up. After which time help arrived to take them to a hospital. Their little fishing boat was left there in the middle of the ocean. 
We came to St Petersburg, Florida after our cruise. Raymond's cousin, Ron and Mary Pippert (class of '54) are here as well, as shown in our photo. 
DanGrover moves to Tulsa
Nov. 6, 2018 — Dan Grover has moved from Lawrence to an independent living complex in Tulsa, Oklahoma to be near his children and many grandchildren. His address is 8887 S. Lewis Avenue, Apartment #411, Tulsa, Oklahoma 74137. Danny's new phone number is 918-845-8877. He has made many new friends, reconnected with old friends and seems very happy in his new surroundings.
Adventures in Alaska
Oct. 18, 2018 — Yin and Betty Yeh were accompanied by their daughter, Tammy, and grandson Colin, on a short trip to Fairbanks, Alaska. Yin had designed the time for this trip to optimize a chance to see the Aurora Borealis. This time frame was one with dark nights (early moon), low precipitation probability, and high solar flare activity season. What could be better? With great anticipation,
we were bussed out to a place near the Yukon River and stayed in an outpost house from 10 p.m. until 3 a.m. Well, no, we did not see anything! Clouds!!! Did not take that into the consideration.
We were fortunate to have linked the trip with a tour of the Tundra Wilderness in Denali National Park. This time, the weather cooperated fully, and we got to see the peak of the Denali Mountain all day. Enclosed are two photos (above) ranging from early PM to sunset. We also got to see some grizzly bears and a moose.
We also took a Chena River day cruise to visit an Eskimo village (above left). The native guides showed us their modes of livelihood: Salmon fishing, fox hunting, and farm raising of caribou. On the other end of Chena River are some hot springs. That resort developed an ice carving museum, appropriate for Alaska temperature. We were treated to an hour in 25°F space, touring the many professional artist's ice carvings. The most complex one is this one showing jousting warriors in action (above right). They even have sculptured a functioning ice bar with ice champagne glasses. We were invited to drink there, but it was too cold! Brrrrr.
So, even without a view of the Northern Lights, we were treated to some of the more unique features of Alaska. Though our grandson had to visit the Emergency Room at Fairbanks Memorial Hospital, his spirits were not dampened. We made up for that by eating a hotpot dinner at a great Chinese restaurant. Between our airplane views of the Denali peak while going and the Mt. Rainer peak while returning, this has been another memorable trip.
Yin and Elizabeth Yeh travel to Tahiti and Bora Bora
April 23, 2018 — Dear Classmate of LHS '56,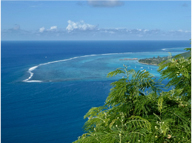 Our trip this year took us to the French Polynesia (better known as Tahiti and Bora Bora) and the Great Barrier Reefs. Flying to Tahiti is an adventure in time travel! We start on Monday; the midway stop in Auckland is Wednesday; then we double back to Tuesday when landing in Papeete, Tahiti.
The island scenery was definitely unique. On many of the islands cruise tour, we took drives in rough 4X4 to the top of their volcanic mountains for panoramic views of the surrounds. Here is one of those, showing the reefs and corals in splendid colors. If you look hard, those small huts on the waterfront are $1K/night tourist hotel rooms! (We were on the ship.)



Underwater views of the corals can be done on almost every island enroute. Betty and I walked out and took this photo of the near-land coral reefs on Nuku Hiva, the northernmost island point of our travel.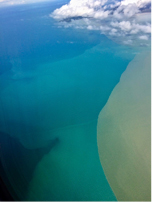 To compare with the Great Barrier Reefs, it is indeed the magnitude. From the air near Cairns, Australia, you can see the varying layers by the beautiful colors. This extends miles and miles at the GBR.
We took a semi-submarine tour of the outer reefs near Port Douglas. The views from our lower deck glass windows are the corals and fishes. Unfortunately on that day, there was rain above.
Our last day was another land tour of the plateaus (Atherton Tablelands) that contained a mini-rain forest. The feature attraction is a 150-year old fig tree, with all of its external root system. For comparison of sizes, we stood there.
This is a small sampling of the photos taken from this memorable trip. Anyone who stops by California and come by our place, I will be happy to show the rest. —Best, Yin and Betty
Oregon visit
Oct. 6, 2017 — Ruth Ann Pippert Owens writes: Will Owens and I were thrilled to have John McGrew and Rita recently spent time with us in Oregon!  John and Will were right here 60 years ago on their way to a summer job in Washington — leaving girlfriends behind — including Me.  We packed a lot of FUN into a few day. — Ruthie
Travel Update from Stu Smith
Aug. 10, 2016 — "Our years since retirement in 2000 have been filled with grandchildren and their many activities. We are lucky that they all live in Georgia -- no more than 2-3 hours away.
Lots of travel trips, some to some very exotic destinations for bird watching such as Belize, Panama, Ecuador, the Aleutian Islands, Europe, etc. We have been blessed with good health up to now, which helps. Another trip this winter to Arizona toi visit Kendall and Julie Wolf in their new home." (Click on a photo to see full-size.)
| | | | | |
| --- | --- | --- | --- | --- |
| | | | | |
| Stu and Anita at Grand Marais, MN | | Stu and Anita enjoy the view at Ouimet Canyon, Ontario | | Kendall joins Stu and Thunder Bay, Ontario (note the sign) |
| | | |
| --- | --- | --- |
| | | |
| Stu and Anita at Monument Valley | | Stu poses with his old battleship, BB-64 USS Wisconsin at Norfolk, VA |
From Ralph and Leila Leary
Aug. 8, 2016 — Ralph and Leila Leary are snowbirds, spending winters in their home in Mesa, Arizona, where it is warm. He said there is a lot to see and do there, but when asked for details, says he likes "to sit around and visit with other retirees." The Learys have made friends with a great many people in their snowbird community. "There are people from all over the United States and lots of people from Canada," he says. Ralph promises a picture or two. When we get them, we will post them. Stay tuned.
Wolfs travel to Alaska
July 27, 2013 — (Click on a photo to see full-size.) Kendall and Julie Wolf recently returned from an Alaska vacation.  Here's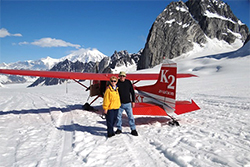 Kendall's report:  We flew in to Anchorage on June 10 and picked up the 22 foot RV that would be our home for the next 16 nights.  Our first morning in Alaska we took a flightseeing trip into Denali NP and around Mt. McKinley.  Included in our tour was a landing on a glacier. We had a beautiful day and a wonderful flight.  Julie talked to the other couple in our Cessna 185 after landing and discovered they were from Topeka.  Small world. 
We then drove to Denali NP where we stayed for the next 3 nights, enjoying continued good weather and a shuttle bus trip 83 miles into the park via the single park road.  We were able to see Mt. McKinley from top to bottom, (a sight, we are told, that is enjoyed by only 30 percent of park visitors) and a variety of wildlife including grizzly bear, caribou, Dall Sheep, fox, and a moose.  
From Denali we went through Fairbanks (dinner with a friend of Julie's) on our way, through gorgeous scenery, to Valdez where we took a day cruise on a small boat called the Lu Lu Belle.  As with our flightseeing trip, we had wonderful weather and got to see all the things we were hoping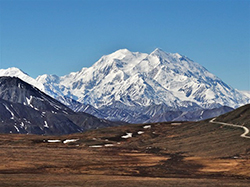 to see; Sea Otters, Orcas, Humpback whales, Harbor Seals, Sea Lions, and various birds.   All that was while we were on our way to our destination, the Columbia glacier.  Our captain was able to bring us to within a quarter-mile of the glacier face standing 300 ft. high, and stretching more than a mile from end to end.  The glacier, one of the fastest moving glaciers in the world, slides about 80 feet per day and is the largest glacial contributor to sea level in North America.  Given the speed at which it slides we watched repeated "calving" or shedding of ice as we idled nearby.
After Valdez we spent the remainder of our vacation on the Kenai Peninsula, visiting Homer, Seward, and many small villages along the coast of the Cook Inlet.  We especially enjoyed Seward where we parked directly on the waterfront where we watched a Bald Eagle take a fish from the water then bring it to a piling directly in front of our RV and proceed to eat it right there.
The entire trip couldn't have been better for us.  Alaska weather was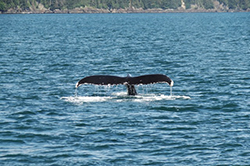 unusually warm and rain-free and the atmosphere was generally clear.  We marveled at the mountains of the great Alaska Range, got "up close and personal" with several glaciers, followed the Alaskan Pipeline from Fairbanks to Valdez, and enjoyed exposure to the Russian influence through visits to a couple of Russian Orthodox churches and cemeteries.  Something Julie and I try to do when traveling is to visit local breweries.  I believe that Alaska must have the highest per capita incidence of craft breweries in the U.S., as virtually every little town we visited had a local brewery.  I must say we enjoyed sampling the wares at every stop.  Along the way we met many nice people including, at one view point, a man who graduated from Julie's high school one year before she did (though they didn't know one another they did share common friends).  Small world. 
If you're interested more photos of our Alaska trip may be found in the Alaska sets on my flickr account here:  http://www.flickr.com/photos/kenwolf/sets/  (Be aware that this is the digital age equivalent of being invited over to watch vacation slides or home movies.)
Goffs attend military reunion in Georgia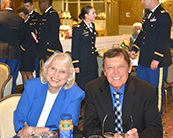 July 27, 2013 — (Click on a photo to see full-size.) Ray and Marsha Henry Goff attended a military reunion in Georgia.  Here's Marsha's report on their trip.  "Ray and I recently returned from a trip to Georgia where we attended a reunion of the WW II 83rd Chemical Mortar Battalion (aka Rangers' Artillery), the unit my father joined when the Rangers were disbanded. Only two veterans, both in their 90s, were able to make the trip. We are losing WW II veterans at a rapid pace and one day we will read of the death of the last veteran of that war. Very sad.
"However, their present day successors at Fort Stewart, GA, known as the 83rd CBRN (Chemical, Biological, Radiological, Nuclear) pulled out all the stops to honor their predecessors. It is amazing to watch the old and young soldiers interact and see how much respect they have for one another.
"Ray and I drove down — our favorite mode of travel unless hampered by an ocean or under time constraints — and, as is customary, Ray sat behind the wheel the entire drive. One might think he is afraid of my driving, but the fact is that driving is one of his favorite things to do. Works for me, too, since I like to ride and was able to finish reading two books during the trip. Surprisingly so, considering I spent a lot of time admiring the blooming mimosa trees that line the highways in Tennessee and Georgia.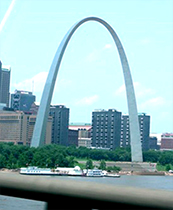 We visited Savannah's River Street on the Savannah River. Ray was extraordinarily patient as I shopped for souvenirs for family at the many shops there. It surprised us to see massive foreign container ships unloading their cargo (who knew that Savannah was a deep-water port?). Our friend Paul, a Brit by birth and now a naturalized American citizen, reminded us that each container unloaded represents an American job lost. And commerce isn't the only activity on the river. Huge ocean-going sailing yachts tie up at the side of the wide river and speedboats and skidoos skip along the surface. It makes me think that we might put the Kaw to better recreational use.
With apologies to Kendall, I like to take photos from the car as we drive along and snapped this one of the Arch in St. Louis (I do that every time we drive by it). When I see it from a distance, I marvel of traveling to the top in that cramped little cubicle and watching the Mississippi flow by far below.
"Other than a big problem with our clueless GPS (you can read about it, if you wish, at www.jestforgrins.com), we had a great trip. Now we're looking forward to our annual trip to Colorado.
Ray and Betty Pippert travel in Massachusetts
June 4, 2013 — (Click on a photo to see full-size.) Ray and Betty Redford Pippert recently returned from a road trip to Massachusetts, as Betty reports. "Our first stop was in Lennox, Massachusetts. The flowering trees and shrubs were at their best and breathtaking. We took several side trips, one of which was to Shelburne Falls. When the glaciers receded in this area what was left were large potholes (that's what they call them), dug out by the tumbling rocks. I've included a couple of photos that show (1) us by the falls and (2) the potholes.
"Our next week we spent at Falmouth, Massachusetts right on the beach. A bit cool for beach combing, but still a wonderful place to be. We visited Plymouth Rock again, the first time since our 25th anniversary--30 years ago. There is a photo (3) of us in of that included. We took the ferry over to Martha's Vineyard and did some lighthouse hunting. Since we do a lot of sailing, we love lighthouses because we know how important they were during the early years of navigation. It was extremely windy that day, so didn't get much accomplished. We chose to come back earlier than we had originally planned, so changed our ticket to an hour earlier. Because of this we ended up on a freight ferry — which proved to be very interesting. We had to stay in our car and the winds and waves were so rough that water was pouring over the rails of the ferry. I actually started looking for the lifeboats, which is something I rarely do!
"Our next excursion took us up the Cape Cod coast to Provincetown, where there is a monument dedicated in 1910 which commerates the history of the Mayflower pilgrims. It's the first thing one sees when entering the harbor. Raymond and I are standing in front of a bronze mural--the Pilgrim Plaque--done in relief, of the signing of the Mayflower Compact that was signed in 1620 (4). Quite an impressive size.
"We're home again, but we're looking for our next travel experience."
Yin and Elizabeth Yeh are back in the states
June 2, 2013 — (Click on a photo to see full-size.) Yin and Elizabeth Yeh have returned from Taiwan after Yin's Senior Fullbright Fellowship.  Yin sends the following report: 
| | | | | |
| --- | --- | --- | --- | --- |
| | | | | |
| | | | | |
We have returned from the Fulbright trip in Taiwan. As indicated from my previous letter, we did have a very memory-filled weekend on the West lake of Hangzhou, my old hometown in China. Enclosed is just a glimpse of the sights of this lovely lake surroundings. In the foreground are my brother, Jen and wife Susan and we two. (Pic #1).
Our 6-months in Taiwan was lots of work AND play. I recommend this to cap off a career for sure! We learned so much about the lives of people living and working in Taiwan, their aspirations, fears and seemingly contradictory views of the future: to be Chinese or not? To be Chinese but not part of China? The Fulbright group had a session with President Ma of the ROC. Enclosed is a shot of the two of us at the famous Yang Ming Shan hot springs park (Pic #2). Steam is coming from the stream.
The people in Taiwan are extremely industrious, striving and inventing new things at work and play. Here, for recreation, they created a single plant with over 1500 Chrysanthemum blossoms all blooming at the same time (Pic #3).
I even had to use their health service, which is under their Universal Healthcare Coverage. Their boast about its success is also tempered by concerns of how to sustain it for the future.
We also had an opportunity to travel to Vietnam on Fulbright assignment. My former student from UCD, who is of Vietnam descent and a former Sloan Fellow, took extremely good care of us for a week in Ho Chi Minh City (formerly Saigon) (Pic #4), Da Nang and a beautiful seaside resort Hoi An (Pic #5). The people of Vietnam are young (average age 24), and have very high aspirations. They hope to achieve Chinese level of economy in about 30 years.
We are now back in Davis, CA and will stay nearby for a while. Please drop in when you are around the neighborhood (anywhere in Northern California). 
News from the Pipperts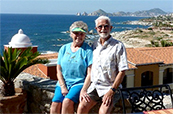 Dec. 22, 2012 — (Click on a photo to see full-size.) Ray and Betty Redford Pippert recently returned from two weeks in Cabo San Lucas, as Betty reports:
We had a lovely relaxing time at the Hacienda Encantada Resort. The weather was perfect, with temperatures in the mid 80's during the day. The resort sits on a bluff overlooking the ocean, so waves were constantly pounding the rough rocks on the shore. From our room we could see the well known Cabo Arch. I've included a photo of us from one of the restaurants.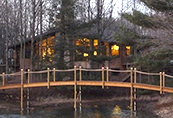 I've also included a photo of the bridge our 4 guys built here at Xanadu. They designed it, measured and cut all the wood and then set it up. The set up was at times tricky, but no one fell into the pond and they lost no tools! They are very proud of it--as we think they should be.
We leave for Florida for 6-7 weeks on December 30. We will be neighbors of Ron and Mary Pippert, Class of 1954, for the first 4 weeks.
We wish all our friends from Class of '56 a wonderful Christmas and a healthy, prosperous New Year.
Regarding the bridge, you may recall that Ray and Betty, along with three other couples have "redefined assisted living" as previously reported HERE.
Alan and Margie Coombs cruise the Mediterranean
Nov. 3, 2012 —  Alan reports that in late September and early October they went on an eleven-night cruise of the Mediterranean aboard a very large cruise ship (about 1200 other passengers). They had done several river cruises (on the Yangtze, the Rhone, and the Nile) before on smaller vessels, but this was their first experience with such a large ocean liner.
They were initially attracted to the cruise as a good way to get to some places they had never visited--Palma de Majorca, Sardinia, Sicily, Malta, Tunis, and Monaco--but they quickly discovered that getting from place to place is only part of what such cruise ships do.  They learned that just being aboard the ship and taking advantage of all the onboard activities is what attracts many people, but they felt they hardly needed the two swimming pools, six restaurants, and equal number of bars, a small basketball court  and tennis court, ping pong tables, a movie theater, and a casino(!). Moreover, the shore excursions offered by the ship seemed pretty pricey. 
Still, the port cities were interesting (although Tunis was scrubbed after the State Department's travel advisory in mid-September and the ship stopped in Naples instead). They got to sail through the Straits of Messina and past Mount Etna and Stromboli, saw some impressive sculptures and historical artifacts in the Archaeological Museum in Naples, took the train for a day-trip to Rome from Civitavecchia on their own (they had been to Rome in 2005 but enjoyed several hours walking around, having a beer in the Piazza Navona, and tossing coins into the Trevi Fountain), and Monte Carlo was spectacular.
So it all counted as a trip that they're glad they took and a good follow-up to their Guatemala-Honduras excursion last April.
Despite the enjoyable trip Alan says that their enthusiasm for large cruise ships is limited and they are curious about similar experiences that Alan's classmates may have had.  So, if anyone else has a cruise experience to share Alan and Margie (and others) would like to hear about it.
Kendall Wolf reports on his trip to Washington DC
Nov. 3, 2012 — (Click on a photo to see full-size.) "Late this summer I went to Washington DC for a long weekend to see a formeremployee who is suffering ill health. Along with another colleague,I managed to do a bit of sight-seeing. In addition to the Capitol, the Washington Monument, and theLincoln Memorial, I saw the World War IIMemorial for the first time. It is quite large and very impressive. A wall of 4,048 stars, each of which represents 100 dead or missing, exemplifies thetremendous sacrifice the people of our parents' generation made.  Finally, the Viet Nam Memorial remains as stark and sobering as I recall it from my first viewing. Though this was my 4th or 5th visit to our nation's capitol all my visits have been day trips, mostly while on business, so much remains to be seen. A definite 'go back.'" (Click on photo below to view full size.)
Raymond and Betty Redford Pippert back from a great three-week trip
Oct. 29, 2012 —  (Click on a photo to see full-size.) Our "senior commune" of four couples have returned from their almost three-week road trip. Our first stop was the Biltmore in Asheville, NC. Two couples had not been there before and were completely enthralled. It really is a "must-see" destination in the U.S. — especially when you can walk through the extensive landscaped grounds. Next stop, Savannah for a tour of the city and walking, shopping, and of course eating. Then up the coast to Charleston, a tour of the city, and a cruise of the Charleston Harbor with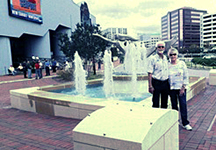 an hour-long tour of Fort Sumter. We had forgotten that this is where the first shots were fired by Conferates that was the beginning ofthe Civil War. The guys toured a couple of the ships on display in the harbor. One of our friends, John Everly, had served on a ship similar to one they explored, so was able to give first-hand experience of being on board.
Two days later we arrived in Williamsburg, VA where we spent a week. We all did different things using our condo as home base. One of the couples went to the Outer Banks. Raymond and I have been there several times, so decided to relax at the condo. Sites visited around Williamsburg included Historic Colonial Williamsburg, Yorktown, a drive through William and Mary College, a Victory Rover Naval Base Cruise at Norfolk that showed us views of the Naval Station and its aircraft carriers, nuclear submarines, and guided missile cruisers. This was a real eye-opener to us. We've heard and read a lot about these magnificent ships, but to see them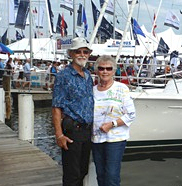 up close and hear of their capabilities was amazing. 
We drove up to Annapolis for the US Boat Show and stayed there for our tour of Washington, D.C. At the boat show we booked a tentative sailing trip in the San Juan Islands for next June. Since all 8 of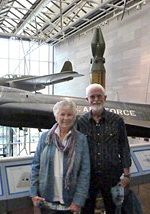 us are sailors, we really get the sailing fever when we're around all those boats. 
We took the commuter train to Washington, D.C. for a full day of sightseeing. Most of us have been to D.C. before, so we split up and went separate ways. Raymond and I toured a couple of museums , the WWII memorial, the Korean War Memorial, and the MLK Memorial as well as the Lincoln, Washington, and Jefferson memorials. The WWII, Korean, and MLK Memorials were new to us and were especially memorable. The MLK Memorial looks directly across to the Jefferson Memorial--a fitting stance.
Our drive home through Virginia mountains was a perfect time of year to see the fall colors, and we were all glad to be home in our own beds.
Raymond and I leave on the 29th for two weeks in Cabo San Lucas at a beach resort for warm, sunny, relaxing days. There won't be much if anything to report on this trip since we've been in Cabo before.
Yin and Betty Yeh enjoy a Rhine River cruise 
(Click on a photo to see full-size.) As Yin reports ....
Elizabeth (Betty) and I have just returned from our second river cruise in Europe. We had fun this time on the western Europe side, visiting Belgium, Netherlands, Germany and finally ending up in Prague for a return visit there. Have thousand of photos (thanks to the digital camera). Here are four to represent our target destinations:
| | | | |
| --- | --- | --- | --- |
| | | | |
| Atomium Expo in Brussels | International Floriade in Venlo, NE | Castle on the Rhine | Wine tasting in a palace |
Wolfs enjoy Smith's hospitality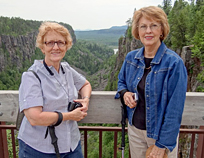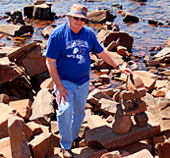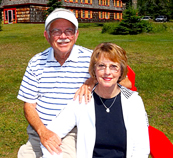 (Click on a photo to see full-size.) Kendall and Julie Wolf recently returned from a delightful and relaxing visit to Stuart and Anita Smith at their cabin near Lutsen on Minnesota's north shore of Lake Superior.  As Kendall reports:  Julie and I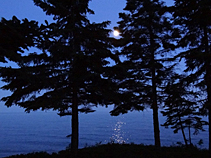 always enjoy the tranquility of the north shore.  Though we manage to stay busy with Stuart and Anita, Julie finds this time to be the most relaxing and stress-reducing vacation she's ever experienced.  We searched for agates on the beach, shopped in Grand Marais, attended a craft fair at Hovland, enjoyed a magnificent brunch at the historic Naniboujou Lodge, and discovered a new sight (for us) at Ouimet Canyon north and east of Thunder Bay, Ontario.  As an added attraction we also had dinner with an old friend from my time in Houston who owns a summer home not far from the Smiths.  Stuart and Anita were, again, the perfect hosts.  The cherry on the top of this trip, was our stop at my son's house in Cottage Grove, Minn., where we once again enjoyed the city's fireworks display from my son's backyard.  Though Minnesota was unseasonably warm it didn't compare to the 109 degrees I experienced in our courtyard as I watered plants on the day of our return.
Will and Ruth Anne Pippert Owens on the go 
 June 21, 2012 — From Ruthie. We just returned from another fantastic visit with our son and his family in Portland, Oregon to celebrate our four year old grandson's birthday. What fun and what a blessing grandchildren are. It seems like yesterday Will and I had our very first date while at Lawrence High in June 1954 — can hardly believe it was 57 years ago!! As you may know, we dated off and on through high school, college, and graduate school but finally tied the knot on a beautiful June evening and will be celebrating 47 happy years together this June by flying to Italy to meet up with our son and his family at a Villa in Tuscany. Plan to baby-sit some, but mostly play and hang out together as we have all been to most of Italy and do not need to do a lot of sightseeing---except for southern Italy where Will and I will travel after leaving the kids.
The Coombs travel in Central America
May 20, 2012 — (Click on a photo to see full-size.) Alan and Margie Coombs recently enjoyed a Central America jaunt. As Alan reports:
In mid-April, Margie and I flew to Fort Lauderdale, Florida, where we spent three days driving across "Alligator Alley" to Fort Myers and Sanibel Island before returning to southeast Florida to fly out of Miami on a pre-scheduled trip to Guatemala and Honduras.
The tour was with an outfit we've traveled with multiple times, "smarTours," and with a tour director who has been at it long enough to have her own "by invitation only" tours — which tends to eliminate the people who are chronically late to the bus or who are just plain obnoxious. Anyway, we spent ten days touring ancient Mayan ruins in two countries, climbing hundreds of steps up and down, observing Guatemala's beauty and extreme poverty, and generally becoming acquainted with a couple of countries we had not visited before.
It was both informative and exhausting and falls into the category of "we're glad we did it and glad we don't have to do it again." So for the time being we're back in Salt Lake City and happy to sleep in our own beds.
The Goffs don't have to travel far from home to have fun!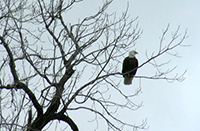 Feb. 20, 2012 — (Click on a photo to see full-size.) The following is from Marsha Goff:
Year-round, Ray and I hike the trails at Clinton Lake or at KU's Natural History Reservation north of town. Recently, while making our own trail near the lake, we passed under a tree where an eagle was perched (click on photos to see larger version). Last May, I snapped this photo of a mother Canada goose leading her goslings on a swim.
Last spring and summer, we monitored a red fox and her litter of four denned in a driveway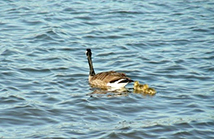 tube. We watched the kits grow from fuzzy little critters to nearly as big as theirmother. Fox-watching also caused us to be checked out one night by a deputy. My fault, actually. I was watching Ray film the foxes when, because we were stopped on the wrong side of the road, I was supposed to be checking behind to ensure that the road was free of cars. It was, of course, except for the deputy's. He gave Ray's license back and said, "I know this car. You guys live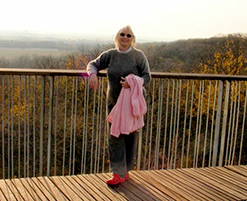 out here, don't you?"
It must seem like it to those who see us there so often.
If you haven't visited KU's Reservation, I heartily recommend it. One handicap-accessible paved walkway leads to a south-facing overlook of the stunning Kaw Valley.On a spontaneous walk one day last fall, Ray snapped the photo of me and the beautiful valley beyond. (You can tell it was a spontaneous walk because I'm not in my jeans. The red Crocs are also a tip-off; they were the only shoes in the car trunk suitable for walking.)
We have some upcoming trips planned for spring and summer, but this mild winter has enabled us to spend more time hiking outdoors. It's a lot more fun that the treadmill!
Raymond and Betty Pippert sure know how to spend the winter
Feb. 5, 2012 — (Click on a photo to see full-size.) They've been basking in tropical climes since November (with a holiday break back home), and now won't get back home until mid-February. As they report:
"We spent 2 weeks in Puerto Rico in November, and on December 27 we left for Florida. We spent a week at Daytona Beach vegging out on the wide beach. We didn't know you could drive along that beach for miles and miles. The drive has stop signs and signs that tell where you can drive. Pretty cool. Then we headed to Orlando for three weeks. We toured NASA and took a helicopter ride as well as vegging out at the pool and trying new restaurants. We are now in Treasure Island, just north of St. Pete Beach. We will rendezvous with Ron and Mary Pippert and a couple of other LHS alumnis, Margie and Nita (formerly Cleveland). We'll be here for a couple of weeks then head over to St. Augustine to do the tourist thing for a couple of days, drive up to Ashville for several days and head for home.
"The weather in Florida has really been fantastic – much better than the 5 inches of snow in Indiana with 7 degree temps!!"